Our 100% Guarantee
At Co-op Market, we are dedicated to bringing you exceptional quality products and service. You may return any item, for any reason, for refund or replacement. We've done business this way since the beginning. 39 years and counting.
All About Returns
To help us serve you better, returns must be accompanied by a Return Goods Authorization number, and we ask that you make your return within 30 days of the invoice date. We reserve the right to refuse any refund request if you do not make it within 30 days of the invoice date or if we determine, in our sole discretion, that the return policy is being abused.
To start a return, please contact Customer Service:
customercare@coopmarket.com
1-844-550-7400
All About Shipping
Shipping Costs
Shipping charges are based on your order's weight and the distance it's shipped. (Standard shipping is FREE* on orders over $39.00.) Your shipping costs will be calculated for your review during checkout.
*Orders that qualify for free shipping are usually shipped Economy Rate. You may choose a different shipping method for an additional charge. Free shipping applies to the continental U.S. only (excluding HI, AK and other US territories). Please note that if you use a discount coupon code on your order, your order must be greater than $39.00 AFTER the discount has been applied in order to qualify for free shipping.
Please note, we do not ship to APO boxes or international addresses.
Shipping Time And Available Carriers
Here is information regarding our shipping and delivery times, and our carriers. We process and ship orders according to the following schedule (all times are Central Standard Time):
Orders placed by 11:59 AM CST will ship the next business day.
Orders placed after 12:00 PM CST will ship in 2 business days.
Orders placed between 5:00 PM CST Friday and 8:00 AM Monday morning will ship Tuesday.
Economy Rate
Economy Rate shipping is our most economical shipping option for orders weighing up to nine pounds and shipping to residential addresses in the continental United States. It's the method most often used for free shipping. Orders are taken by FedEx to the U.S. Post Office nearest to the destination address, and USPS delivers to your door. Most orders will be delivered within 10-15 business days, but longer delays are possible. All shipments have a tracking number, so you can easily track your order online.
Estimated Economy Rate delivery time from when your order ships.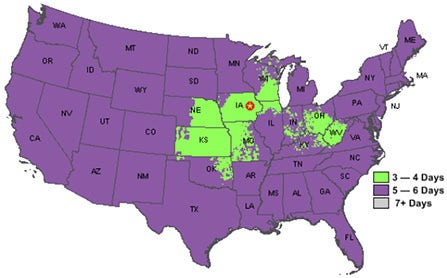 FedEx
FedEx Home Delivery, 2-day and 3-day, and Standard Overnight shipping are also options. Please note that the 2-day and 3-day options involve air shipment, and some products cannot be shipped by air.
Estimated delivery time for Home Delivery from when your order ships.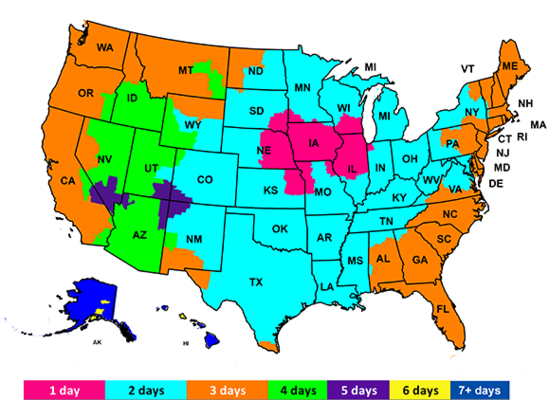 United States Postal Service
USPS Priority Mail and Parcel Post shipping provide nationwide service, including Alaska and Hawaii. Packages are delivered Monday through Saturday. Most Priority Mail packages arrive within 5-10 business days, and Parcel Post packages within 10-15 business days. Delivery times are non-guaranteed, and Frontier Co-op cannot be responsible for packages that take longer than the estimated transit time. The vast majority of packages shipped via USPS arrive within the estimated timeframe, but lengthy delays are possible, especially for orders to Alaska and Hawaii.