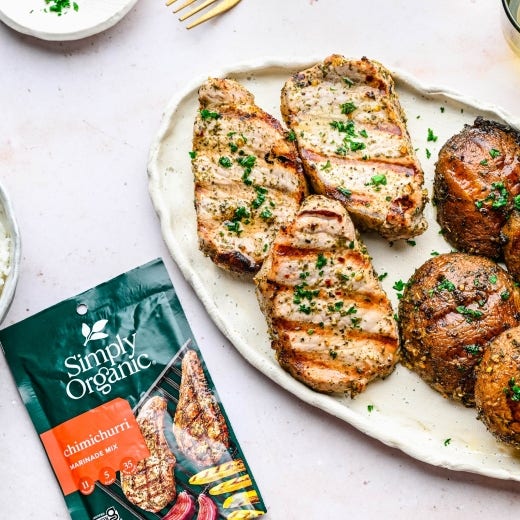 Chimichurri Grilled Pork Chops
You only need 30 minutes to impart zesty, herbaceous and garlicky flavor to pork chops with one packet of Simply Organic Chimichurri Marinade Mix. Toss them on the grill with your favorite veggies and potatoes for a delicious, convenient meal any night of the week.
1/2 cup olive oil
3 tablespoons red wine vinegar
2 pounds bone-in pork chops
Directions
In a small bowl, add olive oil, wine vinegar and Chimichurri Marinade Mix.
Place pork chops in a sealable dish or resealable bag.
Pour marinade mixture over pork. If in a dish, flip to coat all sides. If in a bag, seal bag and massage to thoroughly coat.
Marinate for a minimum of 30 minutes.
Grill over medium heat for 6 to 8 minutes each side, or until internal temperature reaches 140 to 160 degrees.
CHEF TIP:
Substitute pork chops with portabellos; marinate and grill to desired doneness.