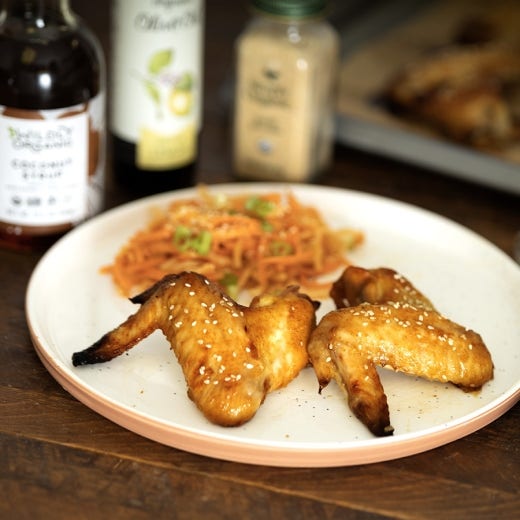 Oven-Baked Garlic Soy Chicken Wings
Oven-baked chicken wings will become your new obsession once you try this salty-sweet marinade. We've found it works equally well for a low-prep weeknight dinner as it does for a party appetizer. (Thank you to our friend Katie Shatzer for creating this wonderful recipe.)
Directions
In a large bowl, whisk olive oil, soy sauce, coconut syrup and garlic. Add chicken toss to coat. Marinate for 30 minutes to 1 hour, tossing chicken once or twice.
Meanwhile, preheat oven to 425 degrees, and line a sheet pan with foil or a silicone baking mat. Once marinated, place chicken onto sheet pan in a single layer. Sprinkle generously with sesame seed.
Bake for 35-40 minutes, then turn oven to broil. Watching closely, broil wings for 2-3 minutes, or until they begin to crisp.