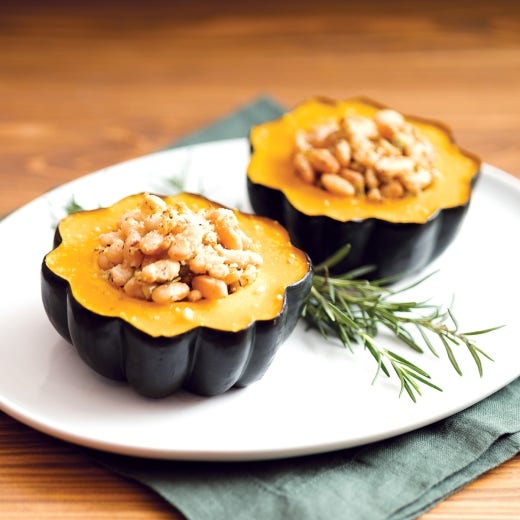 Parmesan Herb Stuffed Acorn Squash
Whether you want a show-stopping vegetarian Thanksgiving main dish or just healthy fall and winter comfort food, this easy acorn squash recipe fits the bill. (Thank you to our friend Katie Shatzer for creating this wonderful recipe.)
Directions
Preheat oven to 375 degrees. Cut each squash in half, parallel to stem. Scoop out seeds. Cut the ends off the acorn squash so the halves become bowls.
Add squash cut-side down to a baking dish, and pour 1/4 cup water around it. Roast for 30 minutes.
While the squash roasts, slice light green and white parts of the leek into half-moons. Mince the garlic.
Heat olive oil over medium heat. Add leek, garlic, 1/4 tsp salt and crushed red pepper flakes. Sauté until soft and translucent, 5-7 minutes. Set aside in a medium bowl and add remaining olive oil.
Wipe out pan and return to high heat. Toast pine nuts for 1-2 minutes, watching closely so they don't burn. Remove from heat to cool.
Add white beans, Parmesan, Italian seasoning, and remaining salt to leek mixture. Mix well, then add pine nuts.
Remove squash from oven and trim cut-side up. Fill each squash with bean-leek mixture. Sprinkle with additional Parmesan, optional.
Return to oven and bake for an additional 20 minutes, until squash is tender. Remove from oven and drizzle with additional olive oil, optional.