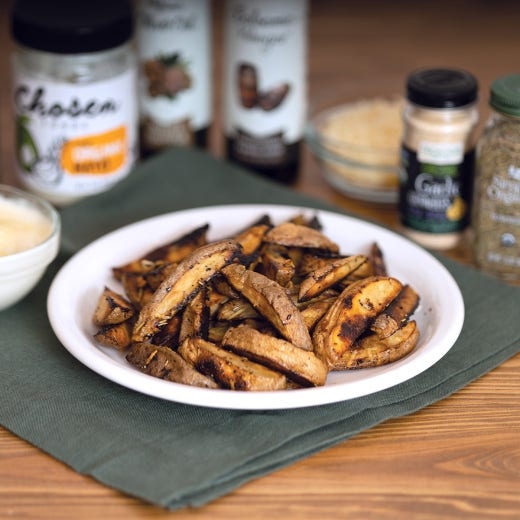 Rosemary Balsamic Truffle Fries
These easy, oven-baked fries will quickly become your new obsession! With rich truffle-infused olive oil, syrupy balsamic and a lemon-garlic aioli, they're a restaurant-worthy indulgence you can whip up on a weeknight. (Thank you to our friend Katie Shatzer for creating this wonderful recipe.)
Directions
Preheat oven to 450. Place potato wedges in a large bowl and add truffle oil. Toss to coat well.
Add seasonings and toss to coat.
Transfer to a baking sheet lined with a silicone baking mat or parchment paper. Arrange into a single layer.
Drizzle with balsamic vinegar and lightly shake pan to coat.
Roast 30 minutes.
While potatoes roast, whisk mayonnaise, lemon juice, and garlic granules in a ramekin.
Remove potatoes from oven; they will look dark due to the balsamic. Sprinkle with Parmesan and return to oven for 3-5 minutes, until Parmesan is melted and lightly browned.
Cool slightly then transfer to a large plate to serve, along with the aioli.