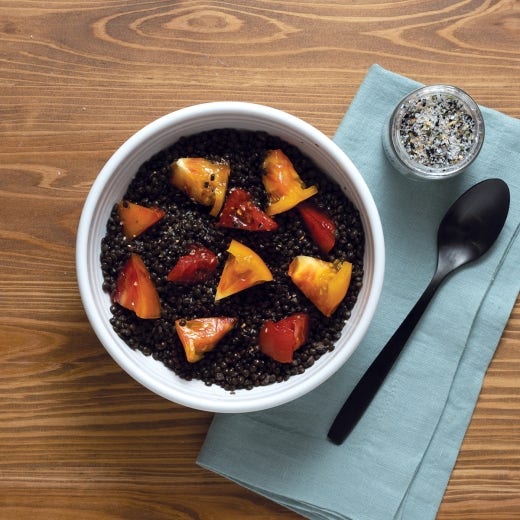 Tomato Lentil Salad with Black Garlic
When it's tomato season, we like to keep it simple and fresh. This easy lentil salad lets your tomatoes shine — yet is a standout thanks to Simply Organic Black Garlic Finishing Salt. Serve as a hearty lunch or as a side with grilled fish or chicken. (Thank you to our friend Katie Shatzer for creating this wonderful recipe.)
Directions
In a large saucepan, bring 3 cups water, lentils and sea salt to a boil. Reduce to a simmer for 12-15 minutes. Once tender, drain excess water and transfer lentils to a large bowl.
While lentils cook, slice tomatoes into eighths, then 1-inch pieces. Transfer to bowl with lentils once lentils have cooled slightly.
Drizzle lentils and tomatoes with basil-infused olive oil and balsamic. Sprinkle with finishing salt.