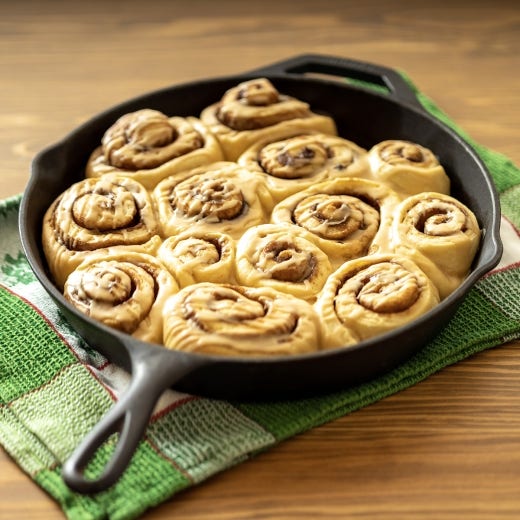 Cinnamon Rolls with Maple Icing
Every baker needs an easy cinnamon roll recipe — this one features the exquisite flavors of Vietnamese cinnamon and organic cardamom, plus a special icing with an irresistible blend of maple flavor and coffee. (Thank you to our friend Katie Shatzer for creating this wonderful recipe.)
Directions
Dissolve yeast into milk. Set aside.
In a stand mixer, stir together dry ingredients. Mix in shortening and eggs until incorporated. Add the milk/yeast mixture. Switch to a dough hook on low speed and mix until a sticky ball forms.
Add to a floured bowl. Cover and let rise overnight.
In the morning, punch down the dough and knead a few times. On a floured board, divide into two pieces. Roll the first piece out into a rectangular shape 1/8-inch thick.
In a small bowl, combine brown sugar and spices.
Brush rolled out dough generously with melted butter. Sprinkle with half of the sugar-spice mixture.
Roll tightly into a log. Trim off ends and cut into 6 pieces. Place into a 12-inch cast iron skillet.
Repeat with remaining half of dough. Cover cast iron skillet and let rise for 2 1/2 hours.
Preheat oven to 350 degrees. After second rise is complete, bake for 20-25 minutes, until golden brown on top and cooked through in center of rolls.
While cinnamon rolls bake, whisk maple flavor and coffee into melted butter. Add powdered sugar, 1/4 cup at a time, until the icing reaches a thick yet pourable consistency. Allow cinnamon rolls to cool for 10 minutes once removing from oven, then drizzle or spread icing. Serve warm.