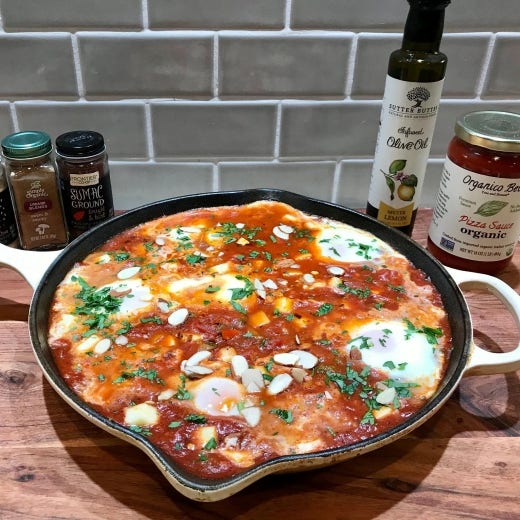 Shakshuka is believed to have originated in Tunisia. Literally meaning "a mixture of", this is a quick and easy one pot vegetarian meal of poached eggs in a rich tomato sauce. Going a bit rogue from the traditional recipe, we are adding in some sweet and smoky umami spices, capers and halloumi or bread cheese in to poach with the eggs. I top it off with a drizzle of Sutter Buttes lemon olive oil, a drizzle of pomegranate molasses and a sprinkling of fresh parsley and sliced almonds. The end result is a rustic hearty and warm stew. Have plenty of store bought naan or pita available to sop up that North African spiced tomato gravy. (Thank you to our friend Stacey Swanson for creating this wonderful recipe.)
Directions
Melt your ghee in a large skillet. Do not use cast iron as we are cooking with tomatoes. A nice wide Dutch oven would work well here also.
Sauté the peppers, onions, capers until the peppers and onions are almost cooked through.
Add in all the spices and sauté just a minute more.
Pour in your fire roasted tomatoes & pizza sauce.
Bring this up to a good simmer and cook for about 5 minutes letting the liquid reduce just a tiny bit.
Scatter the halloumi or bread cheese throughout the sauce and just press it in lightly and allowing it to cook about another minute or so. Halloumi/bread cheese will retain its shape but have a soft texture when cooked.
Using a spoon, making a small well and then cracking an egg into that well. Continue to work your way around the pan and into the middle, making little wells to crack each egg into.
You can finish the dish off 2 ways. You ware welcome to put the lid on the skillet and let it simmer until the eggs are cooked to your liking anywhere from 5 minutes on up. Sunny side up with runny yolks, jammy yolks or harder yolks. Everyone has their favorite, but I prefer jammy yolks with this dish.
Option 2 is to slide your skillet, if it is oven proof) under the broiler. Traditionally Shakshuka is cooked on the stove top but I prefer the broiler method to finish it off. If you aren't comfortable with the broiler method stick with the stove top. When using the broiler method you will need to stand by the oven and watch your dish to make sure you don't overcook the eggs, this will go quickly, within a few short minutes.
When eggs are cooked to your liking, drizzle some lemon olive oil over the dish, a drizzle of pomegranate molasses, some slivered almonds and fresh parsley.
Serve with store bought naan or pita to keep this a simple one pot meal.
*Dish Variations
Spice variations are Simply Organic Baharat, Frontier El Ras Hanout, Frontier Berbere, add some Simply Organic Chili Flake, Frontier or Simply Organic Garam Masala, Frontier Tandoori Masala. These would all be "to taste", do not use the amounts listed in the above recipe directions since some of these spices contain heat.
Sauté 1/2- 1 lb. of ground lamb with the peppers and onions if you prefer to have a meat option.